Shipping FAQ
Miller's Organic Farm is our century-old Amish family farm in Bird-in-Hand, Pennsylvania. We are fiercely proud of our holistic and entirely chemical and GMO-free system, which allows us to raise animals on pasture, where the food we produce is traceable, pure and grown on nutrient dense soil, under traditional time-honored methods. You can read more about our farm here.
We are a private Member Association, and only members of our community can purchase from our farm. If you are not a member yet, please join us here and you are ready to place your orders on our Farm website.
How does shipping work?
We ship nationwide ground/overnight or Express either via FedEx or UPS at the standard carrier fee. We choose ground whenever possible as shipping costs are very reasonable. We only ship Monday through Thursday with delivery by Friday for UPS and by Saturday for FedEx to avoid weekend transit.
How is my order kept cold during transit?
Each box shipped from our farm contains a Styrofoam cooler, packed with ice to keep it cold. We charge a cold packaging fee which ranges from $4.00-$16.00, depending on the size of your order. Our default to ship meats is frozen but if you prefer fresh meats, please make a comment at the checkout and we will ship your meats fresh. Just know, that frozen foods will ensure a colder temperature during transit and it will reduce the overall weight of your package as we need to add less ice packs.
How long will my package be in transit?
Due to the perishable nature of our product, we only ship on Mondays, Tuesdays, Wednesdays, and sometimes Thursdays – depending on the destination. This ensures that all products will be received prior to the weekend. Products that we do not have in stock at the time your order is placed will need to be put on back order. It is possible that there may be a lag time from the time your order is placed to the time it is shipped. We will call you to inform you about a possible delay of the shipment. However, we work hard at making sure that orders are shipped as quickly as possible. If there is a concern about receiving an order on a specific date, we suggest making a comment at the checkout and tell the farmer that you like to have your order shipped at a specific date.
We will only allow a package to be in transit for three consecutive business days.  If your order cannot be received within 3 days using ground shipping, we must use 2Day Air service or Express shipping.  Refer to the map below and if your location is shown on the map in the orange category, we can ship you the food standard ground. If you have any concerns regarding shipping, please contact our farm for additional details. You can reach the Miller's Organic farm staff at (717) 556-0672.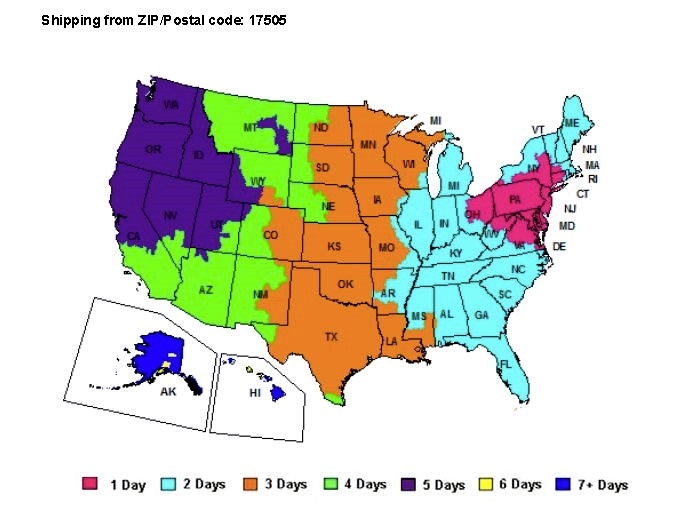 How will I know when my order has shipped?
We are a small farm and not a factory. We have learned a lot about shipping perishable products through the mail and we have successfully done so since the year of 2000. Orders are usually fulfilled within 24-48 hrs, unless the item(s) you ordered are temporarily "OUT OF STOCK" and you wish to wait a few days longer until we can fulfill your order completely. With that being said, you will receive an initial confirmation email when you place your order. After your order is packed, we will provide you with your actual total and the respective carrier tracking number via email.
When will I pay for my order?
Your credit card is not processed when you place your order as we will need to modify it to reflect out-of-stock conditions, the actual weights of items sold by the pound and the shipping/cold packaging fees. Once your order is ready to ship, we will modify your order and then send you a professional invoice which will reflect the actual charges.
Do you provide shipping estimates?
Yes, at the time you place your order you can choose to receive an estimate of the shipping charges before proceeding with your order. In that case the farm will NOT finalize your order but they will calculate the shipping charges and call you to tell you the best options and rates. If you want the farm to fulfill your order, we will proceed and if not, we will cancel your order. We will not fulfill your order until we hear from you that you want the order shipped.
When are the order deadlines?
The order deadline is 9 PM the day before shipment. Orders placed after 9 PM on Wednesday will ship the following Monday.
What payment methods are accepted?
We accept all major credit cards as our sole payment method. When you place your order you will be prompted for your credit card information. Your card will not be charged at the moment you place your order, as the exact shipping charges and actual weights of products or products that may be out-of-stock are not known until the order has been fulfilled and finalized by the farm.
Is there an order minimum?
No, we don't have order minimums but the best shipping rates are obtained if the order is at least 30 lbs.
What if I have to cancel my order?
Please call the farm at (717) 556-0672 before noon on the day of shipment to let us know you wish to cancel your order.
What if my order is damaged or something is missing?
Eggs are the most fragile items we ship. Our egg prices include $1 per dozen for insurance against breakage. If any eggs arrive broken please inform us at the farm at (717) 556-0672 and keep a tally. When the number of broken eggs reach a dozen we will ship you a FREE dozen replacement eggs in a future order. In the rare event that an item was shipped incorrectly or is missing from your order, let us know immediately so we can assist you and help you resolve the issue.
Orders exceeding 70 pounds will be shipped in multiple boxes. To minimize the possibility of breakage we suggest that you choose plastic containers over glass when you have a choice. If you have a question about your order before shipping or there is a problem with your order once it is delivered – again – please call the farm at (717) 556-0672. Members who live in close proximity to the farm can also place an order online and pick up their food order at the farm in person.
Thank you for your interest in our farm foods. We strive to grow the most nourishing, healthy and clean foods possible and we feel honored to ship them directly to the well-informed consumer like you, who want to support this type of agriculture.
Best of health, Amos Miller Farm and Staff